Information Desk
The Information Desk is located on the first floor of the Memorial Union.  Look for the bright white counter near the main lounge. The friendly staff can provide information about programs, facilities, and services available on campus, as well as directions on campus and transportation resources, and they are knowledgeable about all things UC Davis.
Lost and Found
The Information Desk desk takes in lost and found as a courtesy to our guests. We are not responsible for loss, damage to, or recovery of property. Valuables are turned over to the UC Davis Police Department on a weekly basis. All other items are kept at the Information Desk for four weeks then donated to Aggie Reuse. Information Desk staff are available to assist guests with lost and found during Memorial Union open hours. See the UC Davis official lost and found locations.
Quad Hammocks 
Feeling stressed and overwhelmed due to the hectic nature of the quarter system? Take a break and relax in one of the twelve hammocks that line the East and West Quad. It's been shown that 20-30 minute naps can be beneficial and boost your alertness, productivity, and concentration. The hammocks are a very popular spot on campus to relax and take a break. If the hammocks are full, Health Education and Promotion has a map of the campus with the best nap spots.
Hammocks are hung up daily around 7:30 am by the Memorial Union Information Desk staff and taken down between 3:30 and 4:00 pm during the fall and winter seasons, and between 6:00 and 6:30 pm during the spring and summer seasons. If you don't see the hammocks out, it is likely due to rain, mud, extreme weather conditions (below 60 °F or above 110 °F), or bad air quality.
Wireless Printing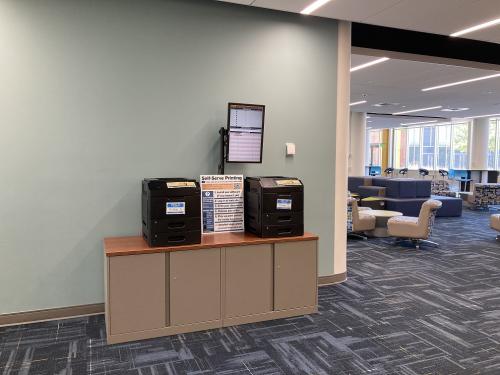 IET-Computer Lab Management allows you to print to IET computer rooms and print stations directly from your laptop while it's connected to the UC Davis Wireless Network. The Memorial Union print station is located in the first-floor lounge near the tabletops with lime green chairs.
Print from your laptop (Mac or PC only).
B&W prints only. Color is not currently available.
The cost is 11 cents per sheet.
Follow instructions on the IET Wireless Printing page.
Memorial Union Flagpole
The Memorial Union is home to one of two flagpoles on campus. The other is in front of Mrak Hall. The United States of America Flag, the California State Flag, and the University of California Flag can be seen flying rain or shine. If you see the University flag at half-staff, an affiliate of the UC Davis Campus is being honored after passing away. If any flag is lowered to half-staff, there is an In Memoriam Card on the northside of the flagpole in remembrance of those who passed. Responsibility for raising and lowering the flags is shared between Army Reserve Officer Training Corps (ROTC), Navy Reserve Officer Training Corps (NROTC), and the Memorial Union Information Desk.
The Memorial Union homepage displays current information on who the flags are lowered in honor of, or check the Memorial Union articles page for a full listing.
Student Expression
UC Davis is home to many student activists. If you are looking for more information about how to go about expressing yourself, the University has provided students with resources on the Student Expressions Page. This page provides resources regarding rights, protests, and locations on campus that provide support to students. One of the key locations for student support is the Center for Student Involvement located on the fourth floor of the Memorial Union. They help groups operate successfully on campus and support the educational experience which organizations provide for student members; as well as the entire campus community.
Study Space in MU Meeting Rooms
Meeting rooms when not in use by reserved parties can be used by students to study. When using them for this purpose, we ask you to please follow these courtesy guidelines:
Please return all chairs and tables to their original position after use.
Please remove and discard any trash from tables, floors, etc.
Please take with you any personal belongings. 
Like in other public spaces within the MU, please refrain from using the space to rest for extended periods of time. 
If using borrowed cables or other equipment, please remove and return all items after use. 
If you have any questions about these spaces or their appropriate use, please direct them to the MU information desk staff. The Info Desk is on the first floor of the Memorial Union. You can stop by, call (530) 752-2222, or email <memorialuioni@ucdavis.edu>".