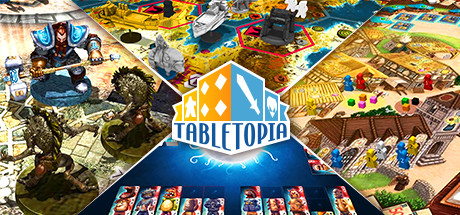 Tabletopia is sandbox virtual table with high-quality board games made by professionals. Already 1000+ games and counting! Play how you want with whom you want: your guests don't need accounts to play. Enjoy the amazing graphics, realistic physics, and digital perks like ready setups, customizable cameras, and intuitive controls. 
Maximum Party Size: Determined by board game choice
Cost: Free (some games require purchase)
How to get started
Open Tabletopia and select "Find & Play" to see games waiting for players, or "All Games" to try any game and the various game modes. Be aware that Tabletopia is just a simulation - you'll still need to follow the rules of the game (which can be found in-game). 
How to host for friends
Open Tabletopia and select "All Games," then navigate to the game you want to play. Click "Play Online" and then invite players either through Steam (Click "Invite Players") or click the link icon and "Copy URL" and share the URL with the friends you want to play with. Change any settings you want to change and click "Start."